Here's one fascinating sign I came across that was too unusual to pass up. I'd never heard of these sort of places before, but apparently they do exist!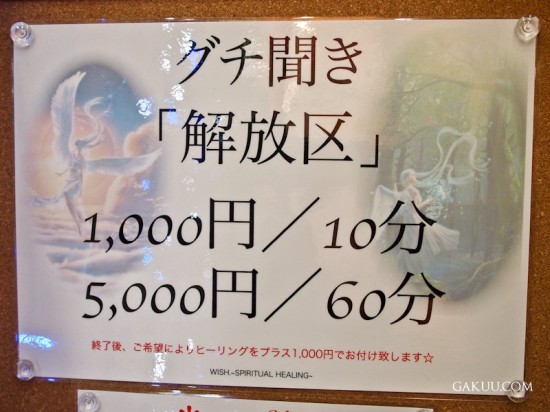 グチ聞き
ぐち きき
Listening to complaints
グチ (or 愚痴) is the word for complaint or grumble. Those stories of irritating co-workers, unpleasant service at the supermarket or a boyfriend who won't listen. They build up inside until we're bursting to get them off our chest and will tell just about anyone.
It seems then that some places are actually attempting to make a business out of listening to people's problems. 'Listening to complaints' is not a very catchy translation, but it gets the message across here. I think 'Complaint Clinic" or something similar might work a little better though.
---
解放区
かいほうく
Liberation Zone
---
That's not all! Log in to see the rest of this lesson.
Or if you aren't a member yet, please consider signing up.