Food poisoning is no laughing matter, so here's some information from a Japanese magazine about the subject.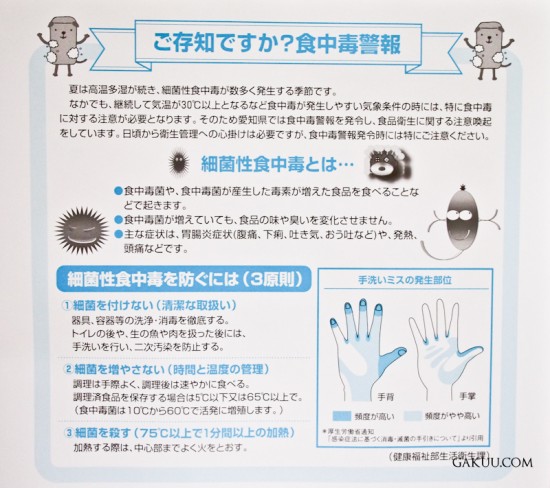 Since the text is rather long and advanced, I've explained the main headers and translated some of nastiest terms in the article. It's great reading practice – good luck!
ご存知ですか?食中毒警報
ごぞんじですか? しょくちゅうどく けいほう
Are you aware? Notice about food poisoning
ごぞんじですか is a polite way of asking somebody is they know something. 食中毒 is the key term in this piece meaning 'food poisoning' and 警報 simply means 'notice'.
細菌性食中毒とは
さいきんせい しょくちゅうどく とは
What is bacterial food poisoning?
細菌性 means 'bacterial' (細菌 on its own means bacteria).
細菌性食中毒を防ぐには(3原則)
さいきんせい しょくちゅうどくを ふせぐには (3げんそく)
3 rules to protect against bacterial food poisoning
The key verb here is 防ぐ – to protect from harm or guard something. 原則 can mean 'rule' or even 'principle'.
---
That's not all! Log in to see the rest of this lesson.
Or if you aren't a member yet, please consider signing up.