As a recent flu victim myself, it seems a little ironic that I had already planned to write this post before becoming ill. It's as much a cultural lesson as it is vocabulary.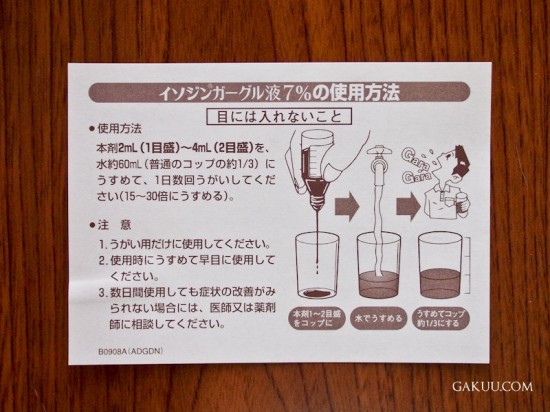 イソジンガーグル液7%の使用方法
イソジン ガーグルえき 7%の しようほうほう
How to use the 7% Isodine gargling liquid
I'm not quite sure whether this is the de-facto gargling liquid used in Japan other than water, but the stuff resembles the liquid I've seen in the past when working in a care home. Isodine is an iodine-based disinfectant liquid often used to kill germs in the throat to prevent colds and influenza.
目に入れないこと
めに いれないこと
Do not get in eyes
---
That's not all! Log in to see the rest of this lesson.
Or if you aren't a member yet, please consider signing up.