Here's the Japanese equivalent of a nice little idiom that we often find ourselves using in English. 自業自得 literally translates to the English idiom 'you reap what you sow'. But we have several other expressions that are good matches for this Japanese phrase too. Let's explore.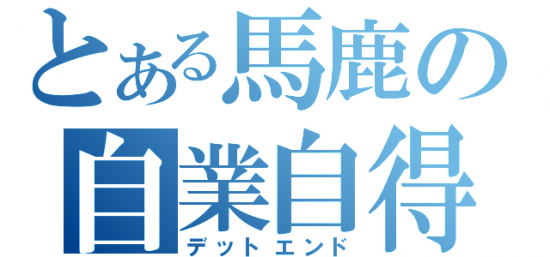 自業自得
じごうじとく
You reap what you sow
Can you think of other equivalent English expressions? There are quiet a lot! Some examples:
A taste of your own medicine.
He'll get what's coming to him.
She's asking for it.
Asking for trouble.
Make one's bed and lie in it.
Get what you deserve.
Just deserts.
And plenty more! All of these could be good translations for 自業自得. But how do we use this word?
自業自得 has a nice little explanation in Japanese, so let's take a look.
自分の行いの報いを自分が受けること。
じぶんの おこないの むくいを じぶんで うけること。
Facing the consequences for one's own actions.
Usually the phrase is used to refer to something bad, or an unpleasant situation.
もとは仏教の語で、自分のした善悪の行為で、みずから苦楽の結果を招き受けること。
もとは ぶっきょうのごで、 じぶんのした ぜんあくの こういで、 みずから くらくの けっかを まねきうけること。
Originally a Buddhist word, it signifies that one's own good actions will invite good rewards and bad actions will invite unpleasant consequences.
Okay, examples!
---
That's not all! Log in to see the rest of this lesson.
Or if you aren't a member yet, please consider signing up.