A rather bizarre yet undeniably useful little website I stumbled upon recently allows you to notify unwitting co-workers of unpleasant protruding nostril hairs. Hanage No More!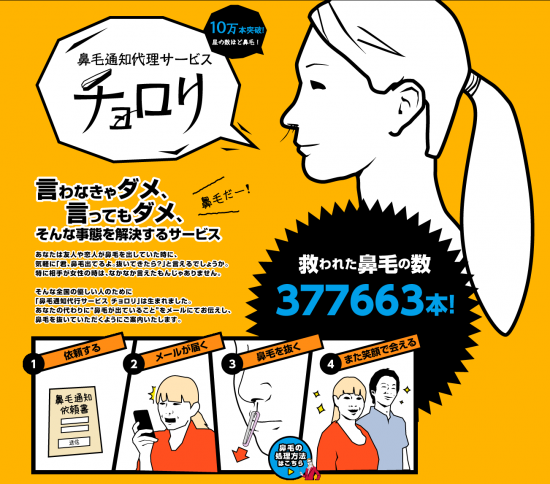 The service known as 'Chololi' apparently lets you send a quick text message to whomever you wish as an indirect way of letting the subject know about their unfortunate hairs.
鼻毛通知代理サービス
はなげ つうち だいり サービス
Nostril Hair Notification Service
Pretty straightforward jumble of words here – nostril hair, notification, proxy, service. The term 代理 is used to mean 'on behalf of'. In this case, the website sends the email on your behalf.
Interestingly, the website has a link to an internal page with Amazon links to various nose hair removal products.
鼻毛処理方法はこちら
はなげ しょり ほうほうは こちら
Taking Care of Nostril Hairs
Literally 'the method for dealing with nose hairs is here'. 処理 is an interesting term that can have a variety of different meanings, some of which might be translated as 'treat', 'dispose of', 'process' or 'deal with' depending on the context.
---
That's not all! Log in to see the rest of this lesson.
Or if you aren't a member yet, please consider signing up.