Everybody loves a hearty bowl of Japan's ubiquitous noodle, ramen! But did you know that you can order your noodles based on how hard and thick they are, as well as how strong the soup is?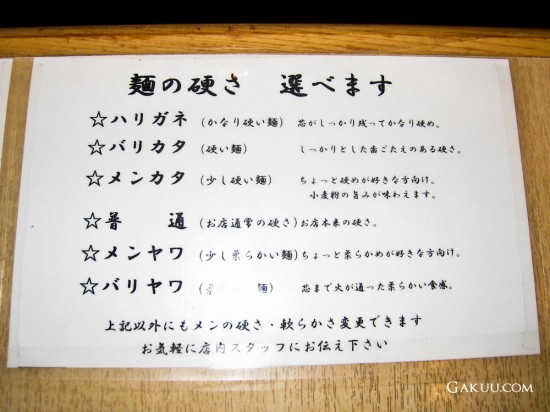 You may not get the opportunity to choose one or all of these things at every ramen joint you visit, but choosing the hardness is quite common. In fact, there are often local dialects for describing the types of ramen and the varying hardness! Above is a sign from a ramen restaurant in central Japan, although I'm told the types of hardness here are found in Kyushu, particularly with the famous Hakata Ramen.
Let's get to it then. The sign is plonked on the table in front of you.
麺の硬さ、選べます。
めんのかたさ、えらべます。
You can choose the hardness.
Alrighty, so here's the list:
ハリガネ
In Hakata the raw, uncooked noodles are very hard, like wire (針金 – はりがね).
かなり硬い麺 – Damn tough noodles!
芯がしっかり残ってかなり硬め。The 芯 (しん) here is the centre of the noodles. It's the same kanji used for the lead in pencils, so you can easily imagine it to be rather hard on the inside. The sign is saying that the centre is しっかり残っている (のこっている) – left well inside – and is かなり硬め – pretty hard.
---
That's not all! Log in to see the rest of this lesson.
Or if you aren't a member yet, please consider signing up.