Something you'll see a lot of in Japanese is the Kanji 会 (かい), which symbolises a grouping or meeting. Its uses are quite broad, from titles, such as 'International Association' (交際交流会 – こくさいこうりゅうかい) to birthday party (誕生日会 – たんじょうびかい) . The trick is simply to look for the Kanji on the end and think of it as a gathering of people associated with the aforementioned cause. Today then, we have a sign with a couple of good examples of this!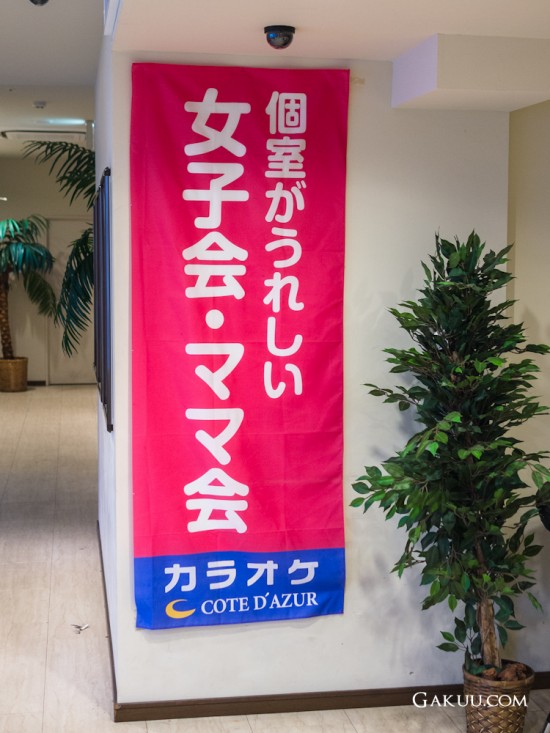 個室がうれしい女子会・ママ会
こしつが うれしい じょしかい・ままかい
Private rooms great for girls' get-togethers and mothers' meetings.
A 個室 is a room that usually gives some privacy for the occupants, although there are many types. In the poster above, we can see from the text at the bottom カラオケ that the advertisement is for karaoke booths. Although it may sound a little strange, 個室がうれしい is hinting at the feelings from the customer's point of view. Imagine you've come to do some karaoke and you find out that the place operates with an open-house mic. You're very shy and not at all up to singing in front of everyone.
But wait! It just so happens that the karaoke place also has private rooms just for your and your friends to sing together. In this situation you'd say 個室がうれしい! This reads a lot like the room itself is happy, but the speaker is actually referring to herself – 'I'm happy there's a booth (to sing in)!'
Here then, the poster is advertising its private rooms targeted towards groups of younger women (女子) and also groups of mothers (ママ). When we go out in groups like this, we call it a 会 – and so it becomes a 女子会 or ママ会. Equivalent English expressions might be 'girls' night out', 'mums' lunch' or 'ladies party'. Naturally, you can easily use this construction to make any sort of group you want.
A guys' night out would be a 男子会 (だんしかい), a fathers' meeting would be パパ会 and a dinner get-together a 食事会 (しょくじかい). Oh, and don't forget the ubiquitous 飲み会 (のみかい) – drinking parties!
Can you think of any others that you've heard? If you want to make your own, just use の会 on the end of the name you think up. For example:
日本野鳥の会 (にほんやちょうのかい) – Wild Bird Society of Japan
日本花の会 (にほんはなのかい) – The Flower Association of Japan
山の会 (やまのかい) – Mountaineering Club