Printing New Year's cards to send out to friends and family is a custom given much importance in Japan. Huge quantities of postcards are send out all over the country just to 'check in' with people, even if it is just once a year.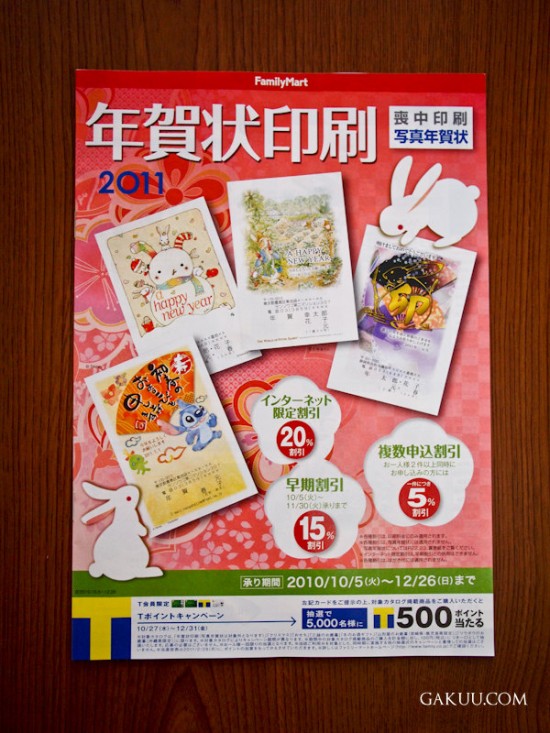 年賀状印刷
ねんがじょう いんさつ
New Year's Card Printing
What caught my eye in this magazine however, was the 3 variations of 割引 (わりびき), meaning 'discount' – a word of untold value, especially in the evenings at supermarkets where they reduce fresh food that will soon be thrown out! Let's take a look:
インターネット限定割引
インターネット げんてい わりびき
Internet-exclusive discount
Not much left to say about this one, as it is all self-evident in the title. A 20% discount exclusive to orders placed on the internet. 限定 means 'limited to' something and can be used in a variety of contexts, including specifying how many of a certain item there is to give away.
---
早期割引
そうき わりびき
Early-bird discount
'Early-bird' comes from an idiom saying 'the early bird catches the worm' which I thought quite fitting for the translation. You might also like to think of it as similar to 'pre-ordering' (although this is not specifically stated). A literal translation would simply be 'Early Order Discount' – 15% for those ordering sooner rather than later!
---
That's not all! Log in to see the rest of this lesson.
Or if you aren't a member yet, please consider signing up.