Here's a cool little phrase that is worth remembering that can really liven up your Japanese – at least when speaking to yourself! やってもうた emphasises a state of shock and disappointment at mistake you've made. You'll certainly catch people's attention by using it!
Take a look at the Facebook post below: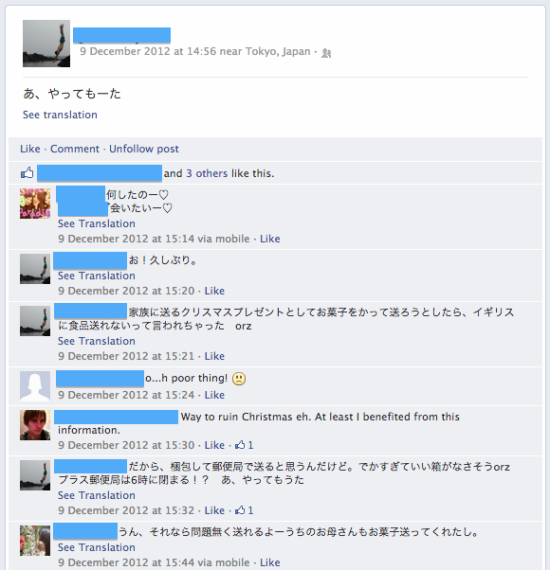 Aさん: あ、やってもーた。

Bさん: 何したのー♡。Aさん会いたいー♡

Aさん: お!久しぶり。

Aさん: 家族に送るクリスマスプレゼントとしてお菓子をかって送ろうとしたら、イギリスに食品送れないって言われちゃった orz

Cさん: o…h poor thing!

Dさん: Way to ruin Christmas eh. At least I benefited from this information.

Aさん: だから、梱包して郵便局で送ると思うんだけど。でかすぎていい箱がなさそうorzプラス郵便局は6時に閉まる!? あ、やってもうた

Eさん: うん、それなら問題無く送れるよーうちのお母さんもお菓子送ってくれたし。
Mr. A begins the conversation by 'vaguebooking' with a Facebook comment.
---
That's not all! Log in to see the rest of this lesson.
Or if you aren't a member yet, please consider signing up.