Here you can find the best resources for how to learn Japanese! This is a specially compiled page of links with an emphasis on unique learning materials, websites and applications, the majority of which are entirely free. Use them together with Gakuu's material to enhance your learning experience.
Have suggestions or notice any broken links? Please tell us!
Last updated: 17th March 2014.
.:: Contents ::.
---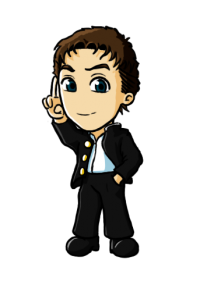 Icon Level Guide:

Green = Beginner.

Amber = Intermediate.

Red = Advanced.
Dictionaries
---

Jisho.org – A cleaner version of Jim Breen's JDIC.


Jim Breen's JDIC – Great for text glossing large chunks of information.


Yamasa Kanji Dictionary – Search for kanji online.


Yahoo Dictionary – Can search Daijisen and Daijirin dictionaries (requires Yahoo! ID login).


RNN News Current Events Dictionary – Useful expressions from hot topics in the news.


Onomatopoeic/Mimetic Word Dictionary – Lookup difficult onomatopoeic expressions.


'Mihongo' Visual Dictionary – Search for tricky words and learn their meaning by pictures!


Weblio – Great for looking up more obscure terms and expressions.


ALC – Great free online dictionary around when used with some common sense. Lots of example sentences.


Kotobank – Useful for looking up more complex terminology from a variety of sources at once.


Dictionary.goo – Includes dictionaries for looking up specialist terms.


Weblio Thesaurus – Nice for looking up related Japanese words.


Word Origin Dictionary – Search for the original meanings of words.


Slang Dictionary – Analyse young people's Japanese and net lingo.


Medical Terms – pdf list of technical medical terminology for easy reference. (Mirror)


Kotowaza – Search for proverbs and sayings.


Yoji Jukugo – Browse a list of difficult idiomatic phrases.

Kodansha Kanji Learner's Dictionary – Unique dictionary with a variety of lookup methods. (Amazon UK) (Amazon JP)


Dictionary of Japanese Grammar – Comprehensive set of 3 dictionaries, beginner to advanced. (Amazon UK) (Amazon JP)


Kenkyusha's New Japanese-English Dictionary – Definitive Japanese-English Hardback. (Amazon JP)


Kenkyusha's New English-Japanese Dictionary – Definitive English-Japanese Hardback. (Amazon JP)


Daijirin – Japanese-Japanese Hardback with listings in a modern order.


Koujien – The standard Japanese-Japanese Hardback.
Textbooks
---

Textfugu – Online Japanese textbook made for beginners and self-learners of Japanese.


Minna no Nihongo – Books 1 & 2 provide a good foundation to the language. (Amazon UK) (Amazon JP)


Genki – Another good beginner's course in Japanese. (Amazon UK) (Amazon JP)


Heisig's Remembering the Kanji – Excellent method for learning kanji. (Amazon UK) (Amazon JP)


J301 – Pre-intermediate to intermediate level Japanese. (Amazon UK) (Amazon JP)


J501 – This book got me over the hurdle of intermediate Japanese. (Amazon UK) (Amazon JP)


Shin Kanzen Master Series – Great for the JLPT N3, N2 and N1. The reason I passed level 1. (Amazon UK) (Amazon JP)
Grammar
---

Tae Kim's Guide to Learning Japanese – Perfect if you're a beginner learning grammar from scratch.


The Japanese Page – More basics of the Japanese language explained.


Tim's Takamatsu – Another collection of basic Japanese resources.


Visualising Japanese Grammar – Learn grammar through situations in flash videos.


Nihongo Resources – Another good resource for basic aspects of the language.


Sci Lang Japan FAQ – All sorts of useful information.


Jgram – An online grammar dictionary.


Situational Grammar Videos – Collection of videos out acted by real people.

Mainichi Nihongo – Examples and practice tests from the old JLPT exam.
Reading
---

Tokyo International University Reading Tutor – Fantastic reading resource for beginners.


Hiragana Times – Japanese news and culture, simplified for beginning language students.


Choko Choko Reading Section – Variety of reading materials from beginner upwards.


JLPT Example Questions – Reading and listening questions for all levels of the JLPT.


Maggie Sensei – A variety of materials for beginners and intermediate students.


List of Japanese Audiobooks and Transcripts – Reading and listening material linked to from a handy list.


TUFS Learning Resources – Learning materials for young Brazilian children with Japanese explanations.


Kotonoha – Wonderful site for finding out what Japanese people think on all sorts of issues.


Tatoeba – Search for sentence examples from the Tanaka Corpus. (Read this first).


University of Virginia Japanese Text Initiative – Loads of Japanese books, with furigana support.


Aozora Online Library – Huge library of free books to read.


Project Gutenberg – Lots of Japanese books.


Yomiuri Shimbun – Yomiuri newspaper. (Conservative slant)


Asahi Shimbun – Asahi newspaper. (Left slant)


Mainichi Shimbun – Mainichi newspaper. (Liberal slant)


Sankei Shimbun – Sankei newspaper. (Right slant)


Nikkei Shimbun – Nikkei newspaper. (Economy/Business)
Listening
---

Ohio State University Listening Materials – Listening and video materials for a beginner course in Japanese.


Aesop's Fables in Japanese – 366 well-known tales for great listening practice.


Kankomie Mukashi Banashi – Traditional stories from Japan for intermediate-advanced students.


NHK Radio News – Practice listening to the radio – select the speed of the broadcast – slow, normal or fast!


NHK Koko Koza – Television programmes aimed at high school students on a variety of topics.


Government Press Conferences – Listen to advanced material in government broadcasts.

Hello Navi – Let's Learn Japanese – Basic listening exercises for beginners.
Kana / Kanji
---

Hiragana 42 – Learn Hiragana through Mnemonics


RealKana – An excellent little tool to test your knowledge of Hiragana and Katakana free online.


Hiragana & Katakana Shape Comparison – Compare the shapes of the alphabets to aid memorisation.


Reviewing the Kanji – A community for using Heisig's method of remembering the kanji.


Read the Kanji – Learn and review kanji in context.
Tools / Apps
---

Rikaichan / Rikaikun – Hover over Japanese words in your browser and have the English appear.


Rikai – Alternative to Rikaichan. Copy & paste a link or block of text.


Hiragana Megane – Alternative to Rikaichan. Adds romaji to the kanji on a webpage.


Kantango – Search for romaji, kana or kanji of Japanese words in one place.


Google Image Search – Lookup unknown Japanese words by viewing images related to them.


Stack Exchange – Ask questions about any aspect of the Japanese language.


Anki – The best free SRS tool for memorisation around.


Lang-8 – Have people correct your Japanese for free.


Renshuu.org – Study and quiz yourself on all areas of Japanese.


Rhinospike – Have native speakers record audio for you from the text you submit.


Skritter – Practice writing kanji online using SRS methods.
Cheat Sheets
---

Tofugu Hiragana Chart

Tofugu Katakana Chart

Nihonshock Cheat Sheet (Amazon US)


Japanese Particles Cheatsheet

Japanese Conjugation Cheatsheet

Japanese Colour Names
Treasure Box
---
Special stuff will go here at some point!
Other Lists
---
Here's a collection of other lists to browse through if you want to dig up even more stuff! There's just so much…
Tofugu's Japanese Language Learning Resources – With user recommendations and mini reviews.
Gakuranman's Top 5 Free Online Japanese-English Dictionaries – Detailed look at online dictionaries.
Durf's Bookshelf for Translators – Advice from a professional translator.
Kanji Koohii Learning Resources – Lists compiled by the folk at Kanji Koohii.
Surviving in Japan – Advice for living in Japan.
Japanese Rule of 7 – "Knowledge for your Brain about Japan".
Lingualift Best Resources
Tumbleweed's Resources for Learning Japanese
Sabotenweb Japanese Language Learning Tools
Japaneselinks Resources
Tanos JLPT Resources
Language Realm