It's no secret that many places in Japan require that you take off your shoes when entering – good examples being temples and family homes. I was quite surprised, however, to see a sign warning about this practice placed outside in a public park!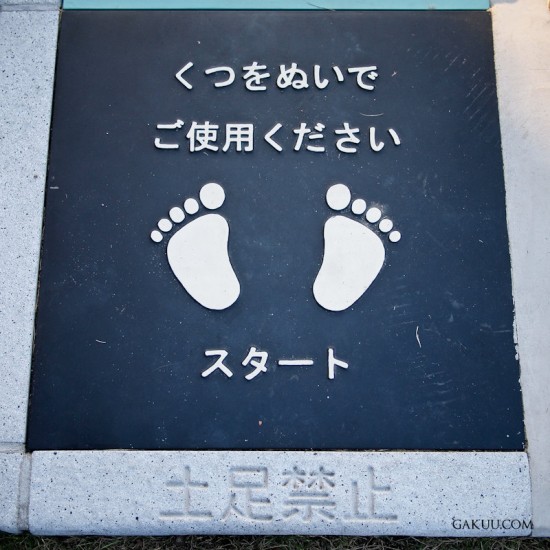 土足禁止
どそく きんし
No shoes!
The neat Japanese word often used when requesting removal of one's shoes is 土足 – literally the 'ground feet' – the part of your body touching the earth. The word 足 (あし) on its own is used to talk about one's feet or legs, which can get confusing at times. The sign above also kindly has simple instructions written out which amount to the same thing:
くつをぬいでご使用ください。
くつを ぬいで ごしよう ください。
Please take off your shoes.
脱ぐ (ぬぐ) is the kanji for 'take off' (one's clothes). ご使用 means 'usage', so the sign literally translates to: 'Please take off your shoes and use (the walkway)'.
What walkway you ask? This one: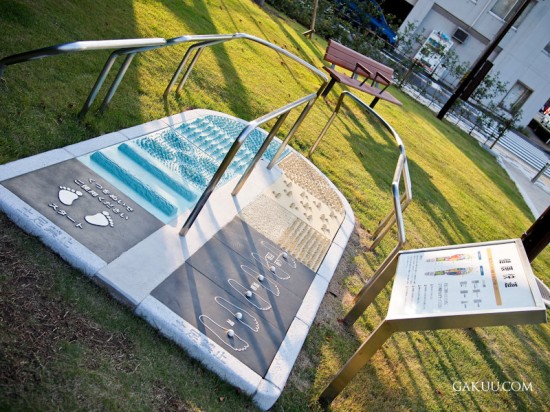 Rather curiously, it's an outdoor setup for foot reflexology. Nicknamed the 健康快道 (けんこうかいどう) – the 'health pleasure trail', it uses different patterned panels to hit pressure points in your feet that apparently have an effect on different parts off your body. I'd heard of foot massage before, but never seen a setup quite like this, especially outdoors! Have you seen something similar?
Here's another use of 土足:
マンションに土足で上がる
Go into the apartment with shoes on.
(※ マンション is a word used to mean 'modern apartment'. It doesn't mean a huge house like the typical usage of mansion would suggest!)