Office messages are known as 伝言 (でんごん) and a vital part of business life in Japan, or indeed many countries. Today we take a look at a simple example and a peculiar piece of grammar that is often used when taking messages.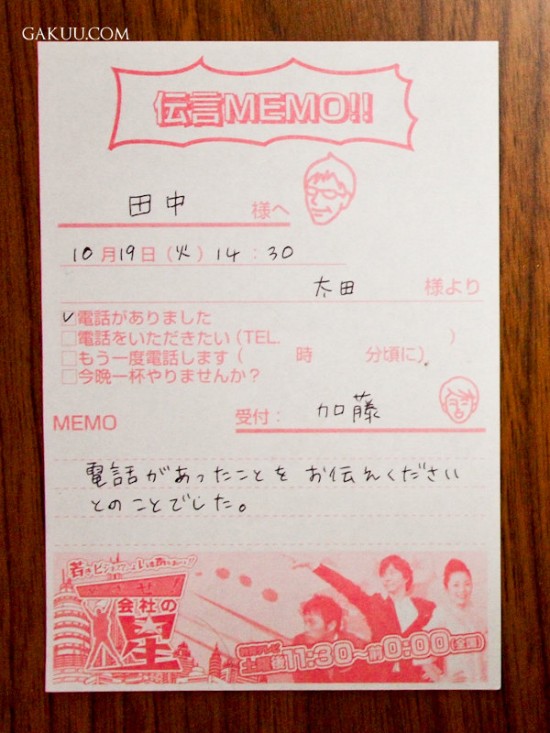 At the top we have the name of the person to whom the message is intended: 田中様へ (たなかさまへ). Remember here, 様 is showing respect and へ is pointing towards or directing to someone of something. Next is the date and time the message was received and then the name of the person who called: 太田 (おおた). We know this because of the より attached to the name, meaning 'from'. より can also be used to end emails and letters to friends.
---
Let's have a look at few typical phrases you find on any typical message template. Because very often the same instructions are given over and over again, it's often handy to use a pre-set notepad.
電話がありました。
でんわが ありました。
There was a phonecall.
Perhaps stating the obvious, but this sort of call happen more than you'd imagine. Quite often the caller just wants the other person to know that they tried to make contact.
---
電話をいただきたい。
でんわを いただきたい。
Would like to be called back.
Literally – 'wants to receive a phonecall'. Once the person gets back to their desk, they should make contact with the original caller.
---
---
That's not all! Log in to see the rest of this lesson.
Or if you aren't a member yet, please consider signing up.