Have you heard of the Seishun 18 Kippu? Meaning something like the 'Youthful 18 Pass', it's a special ticket that anyone – regardless of age – can use to travel cheaply at certain times in the year.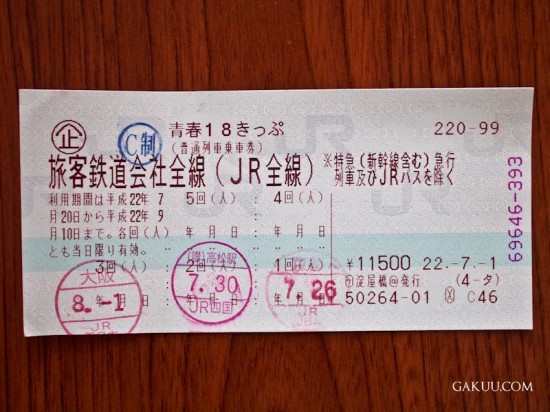 Above is a typical ticket – one that I used last summer. It's stamped three times, but the 18 Kippu allows you to use it 5 times throughout the period it is valid for. It can also be used for multiple people, so 2 people could travel together on 2 days (using up 4 times) leaving 1 usage remaining. It's very flexible.
青春18切符
せいしゅん18きっぷ
This is the name of the ticket, with 青春 meaning 'youth', but oddly anyone can use this offer. It usually occurs 3 times a year, in the Spring, Summer and Winter holidays.
---
That's not all! Log in to see the rest of this lesson.
Or if you aren't a member yet, please consider signing up.