Those of you who are Twitter users will have undoubtedly comes across the slang term なう, which evolved on the social network in response to the 'What are you doing now?' tagline. Let's take a brief look at the term!

なう
Now
That's right, なう is just a direct copy of the English word 'now', and in Japanese has the essence of saying something like 今〇〇している – I'm 〇〇-ing right now.
Here are a few examples to get a better feel for it: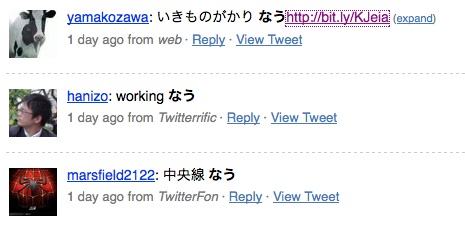 yamkozawa: いきものがたり なう – (Listening to) Ikimonogakari now
hanizo: working なう – Now working
marsfield2122: 中央線なう – (On the) Chuo-line now
Pretty simple right? You'll notice that often the verb is implied. Nothing new there then. Let's look at some harder examples:
---
That's not all! Log in to see the rest of this lesson.
Or if you aren't a member yet, please consider signing up.