Unexpected things in the mail are always a concern. "Oh no, what have I missed? It's not a bill, is it? Or worse, overdue tax payments? Heaven forbid I have to make a phone call in Japanese…" Today we take a look at a standard postal note to help you deal with stuff like this.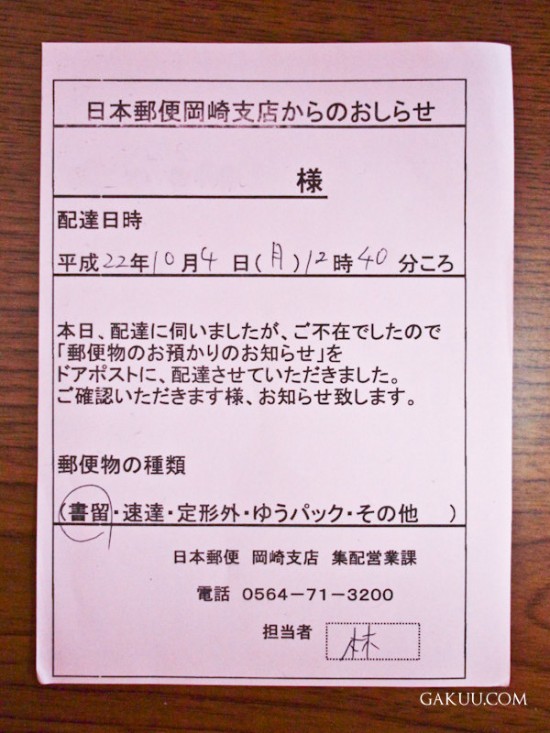 There's a lot of good Japanese in this one, and especially for you keigo lovers out there, very good use of the honourific. Since there's a lot of text, we'll only be looking at several of the more useful parts of the note. Feel free to look up the readings or extra words using Rikaichan or a handy online dictionary. You can ask questions in the comments if you feel any parts are in need of further explanation! Alrighty then!
日本郵便岡崎支店からのおしらせ
(In hiragana: にほん ゆうびん おかざき してん からの おしらせ)
A notice from Japan Post Okazaki Branch
---
The next part with 様 (さま) is where the recipient's name would be written. さま is used for clients, customers or anyone you wish to show a lot of respect for. It's also used as the de-facto suffix when writing names on letters, as in this case.
配達日時
(はいたつ にちじ)
Delivery time
Very useful word to remember here. 配達 is used in many different situations, from receiving standard mail to ordering goods online and directing delivery men. You'll notice the date and time written after that, as well as the word ころ, which means 'about' or 'roughly'.
---
Here's the main chunk of text. We already know the note is from the post office and is talking about delivery times. It doesn't take a lot of guess work to figure out that the rest of the note is going to be about something similar. In this case, it's politely explaining that you were not in when the letter needed to be signed for.
本日、配達に伺いましたが、ご不在でしたので「郵便物のお預かりのお知らせ」をドアポストに、配達させていただきました。ご確認いただきます様、お知らせ致します。
You were out when we came to deliver your parcel, so we have put a 'held item' notice in your door post box.
There's a lot of formal Japanese being used here, so don't feel too bad if it's over your head. The first steps are becoming familiar with certain expressions so that they don't scare you when you see them. Take:
配達に伺いました
(はいたつに うかがいました)
This is literally: (We) came to deliver. 伺う is the humble way of saying 来る or 行く – coming or going somewhere. It can also be used instead of 聞く, when asking a question. The aim is to lower oneself to show respect for the other person. In this case, because we are the customer receiving the package, the company is showing humility towards us in order to be polite.
---
That's not all! Log in to see the rest of this lesson.
Or if you aren't a member yet, please consider signing up.