Melty Kiss is a brand of Meiji chocolate in Japan that, like many companies here, releases seasonal versions of its most popular products. Here the latest Winter Version.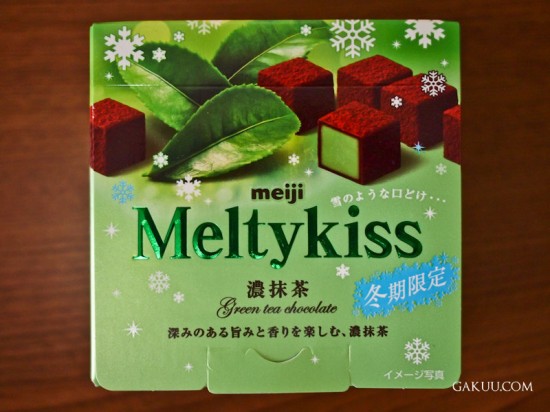 The name 'Melty Kiss' is an oddly attractive name for chocolate, conjuring up all sorts of good-feeling imagery. It's not uncommon to find green tea flavoured chocolate in the supermarkets and convenience stores in Japan, but this particular item however is being marketed as a luxury item, priced higher and targeted towards people wanting to indulge or perhaps buy an comparatively inexpensive present.
濃抹茶
こいまっちゃ
'Strong green tea flavour'. The first kanji 濃い (こい) is the opposite of 薄い (weak, or thin). 抹茶 is the traditional tasting green tea used in Japanese tea ceremonies. Contrast that to お茶 (おちゃ) – green tea – used in bottled drinks and other products.
---
冬期限定
とうきげんてい
'Limited to the Winter season' – in other words, a seasonal product. Better buy quickly!
---
---
That's not all! Log in to see the rest of this lesson.
Or if you aren't a member yet, please consider signing up.