As punctual and reliable as Japanese public transportation is, there are unfortunately occasions where not everything goes according to plan. Tardiness just isn't acceptable for the working adult, perhaps moreso in Japan than most other countries. So it is then that when even despite your best efforts acts of god seem to smite you, there is a handy piece of paper you can get hold of to prove your innocence. Let's explore!
Sometimes it can be freak weather, such as heavy snow or strong winds, that cause the trains to grind to a halt, and other times it can be an accident. Quite often you will hear or see signs notifying you of the infamous 人身事故 (じんしんじこ) – the so-called 'human accident'. A euphemistic way of saying 'suicide' in unfortunately far too many cases.
But that's a topic for another day. My certificate of lateness was issued simply due to unforeseen circumstances in the train schedule. Somewhere along the line, things got a little backlogged. So, being the diligent worker I am, I snagged my proof to show the boss, should he doubt my sincerity that morning!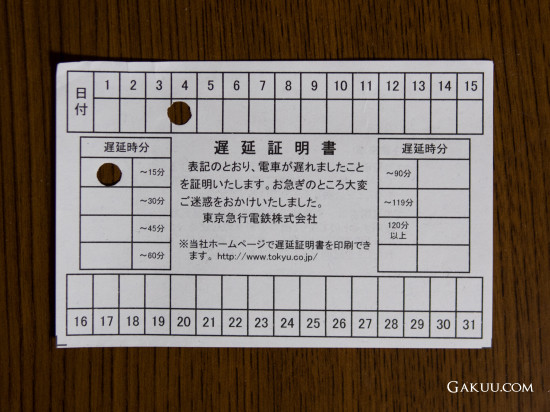 延長証明書
えんちょうしょうめいしょ
Proof of Delay
---
That's not all! Log in to see the rest of this lesson.
Or if you aren't a member yet, please consider signing up.