Winter in Japan can be positively frightful if you don't have a positive outlook. Looking forward to going snowboarding is one very good way to keep your spirits up, but be sure to strap on your helmet before heading out!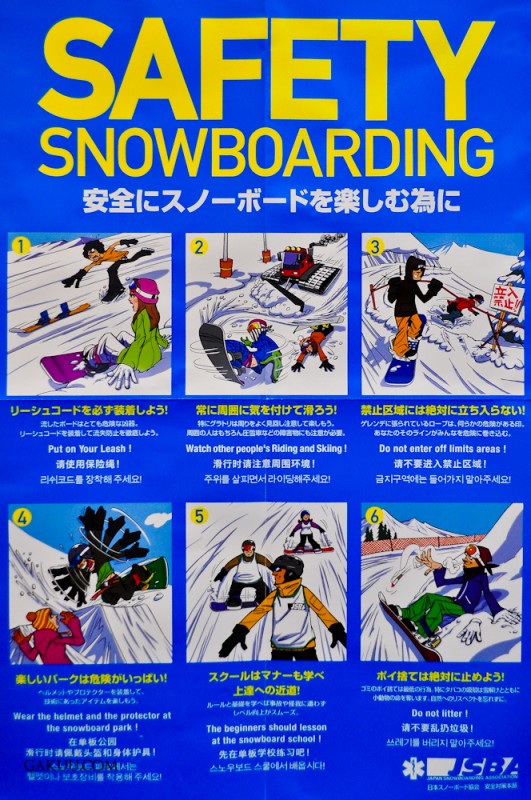 リーシュコードを必ず装着しよう!
リーシュコードを かならず そうちゃく しよう!
Be sure to attach your board strap!
A 'leash cord' appears to be what in Japanese refers to a simple strap to prevent your board sliding away. You tie it around your leg or attach it to your boot in the event that your bindings become loose. Here 必ず means 'without fail' – very similar to 絶対に. 装着 means to 'fix' or 'mount' something to your body – literally to 'equip and wear'. As we have seen in other signs, here the volitional form しよう is being used to suggest that you do something. We wouldn't rightly translate it to 'let's' or 'shall' in English, so it's better to use something like 'should'.
---
常に周囲に気をつけて滑ろう!
つねに しゅういに きをつけて すべろう!
Be aware of your surroundings at all times!
常に is a useful little word to attach to phrases which means 'regularly' or 'at all times'. You should be constantly vigilant of other snowboarders (and skiers of course, as annoying as they can be :p). 気をかける is to divert your attention to something; to think about it or feel it. So when we direct this attention to 周囲, we are being mindful of the environment and other people. 滑る is the word 'to slip' or 'to slide' – snowboarding or skiing!
---
That's not all! Log in to see the rest of this lesson.
Or if you aren't a member yet, please consider signing up.