Continuing with the top 10 buzzwords of 2011 then, we take a look at the remaining 5 terms with were picked to best represent the year in Japan.
帰宅難民
きたくなんみん
Returner Refugees
勤務先などで災害に遭遇し、交通機関の混乱から帰宅が困難になった人のこと。「帰宅困難者」ともいう。東日本大震災では、東京は震度5強の揺れを観測したが、鉄道の運休などにより約500万人が帰宅難民になったと推定される。
Perhaps a bit of a confusing term. 帰宅 means 'to return home' while 難民 is usually translated as 'refugee'. The term actually refers to the commuters who were stranded after public transport was knocked out following the Great East Japan Earthquake.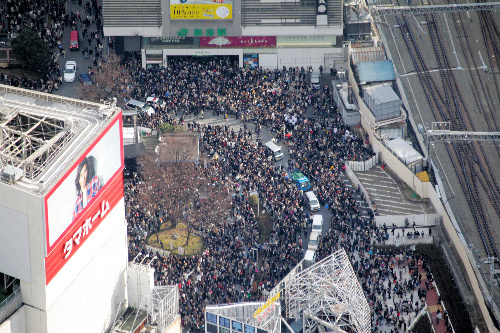 ---
こだまでしょうか
こだまでしょうか
Is it an echo?
東日本大震災後、頻繁に流れたACジャパンのテレビCM中のフレーズ。「遊ぼうっていうと遊ぼうっていう」で始まり「こだまでしょうか?…いいえ誰でも」とシメる。明治時代の詩人、金子みすゞの詩。この「こだまでしょうか」が収録された詩集に問い合わせが殺到し、ベストセラーとなった。
This is a line from the children's poem by Misuzu Kaneko. It opens with the line: Is it an echo? and finishes with 'No, anyone'. Quite cryptic. It was used in a commercial by AC Japan and played over and over again. Below is the poem in full – if you can't figure it out, check out the explanation here.
こだまでしょうか

  「遊ぼう」っていうと
  「遊ぼう」っていう。

  「ばか」っていうと
  「ばか」っていう。

  「もう遊ばない」っていうと
  「遊ばない」っていう。

  そうして、あとで
  さみしくなって、

  「ごめんね」っていうと
  「ごめんね」っていう。

  こだまでしょうか、
  いいえ、だれでも。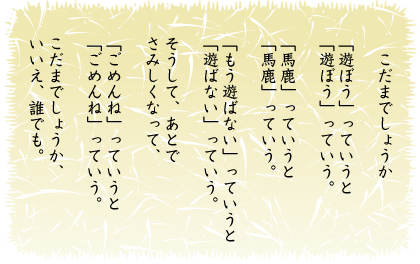 ---
3.11
3.11
11th March, 2011
2001年9月11日に起こったアメリカ同時多発テロの呼称「9.11」にならった呼び名。津波が襲い、福島第一原発の事故が起きたあの日、アメリカにとっての同時多発テロに匹敵するような歴史的な衝撃が、この国にもたらされたのである。
Just like 9.11, the date of the twin towers tragedy in America, the Great East Japan Earthquake has been labelled with 3.11 to refer to the date the earthquake and tsunami hit. It's certainly one that will be appearing in future history books.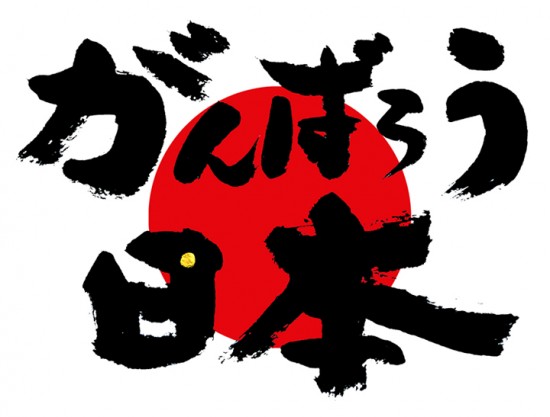 ---
風評被害
ふうひょう ひがい
Harmful Rumours
ありもしない噂やデマを世間に流されたり、取り沙汰されたりして被る被害のこと。福島第一原子力発電所事故後、被曝を恐れる心理から、福島からの避難民が差別的な扱いを受けるなどした。また農畜産物や魚、工業製品が過剰に避けられたりするなどのケースも発生した。
被害 is the standard term meaning 'damage', but 風評 is a little more interesting. A combination of 'wind' and 'commentary', it refers to rumours or the reputation of something. Literally 'reports spread by the wind'. It has been and will continue to be a major theme and problem for Fukushima and its residents because of the lack of knowledge and misinformation (harmful rumours) that are circulating about the radiation leaks from Fukushima Dai-ichi Nuclear Power Plant.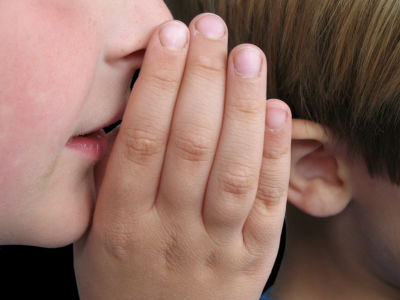 ---
ラブ注入
ラブ ちゅうにゅう
Love Injection
整体師でもあるお笑い芸人・楽しんごのギャグ。独特の振り付けをしながら「ドドスコスコスコ」を3回繰り返し、「ラブ注入」で胸の前で手でハートマークを作る。オネエブームの後押しのもと、いじられやすいキャラで人気を得た。
A popular catchphrase from comedian Tanoshingo that involves making a heart shape with your hands and thrusting it out towards some unfortunate soul. Love Injection! Also worth noting is the first syllable in 注入 – ちゅう – a casual term for 'kiss', giving the term an extra cutsey feeling.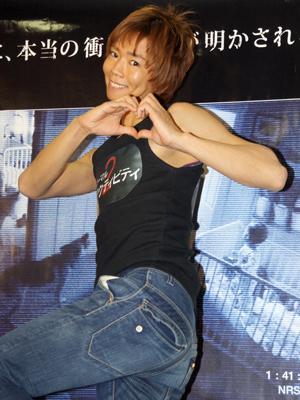 Source: Jiyu Kokuminsha