A bit of a fun little lesson this time. A bunch of cute sea creatures from an aquarium product label. How's your sea-life vocabulary?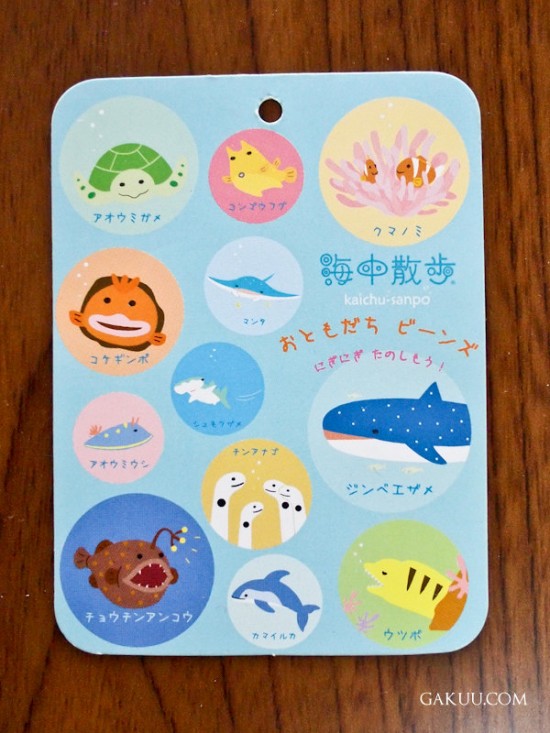 海中散歩
かいちゅう さんぽ
海中散歩 is a colourful expression. 散歩 you might recognise as 'a walk' or 'to walk' when する is added to the end. 海中 means 'under the sea' (literally: inside the sea), so an undersea walk is teh picture painted. Around the text we have various sea creatures.
おともだちビーンズ
おともだち is more formally written as お友達. In this sentence we might translate it as something like:
Bean Friends
This particular children' toy was a bean-filled plush of a sea creature. That also explains why kana and not kanji were used on the product label – so children can easily read it.
---
にぎにぎたのしもう!
たのしもう (properly written as 楽しもう) is the volitional form expressing intention. It can also be used to suggest things (shall we..?) Here then, we are saying 'let's にぎにぎ have fun!' What's にぎにぎ? It comes from the verb – 握る 'to squeeze'. So 'let's have fun squeezing (the bean toys!)'
---
So let's take a look at some of those sea creatures!
アオウミガメ
Green Sea Turtle. Remember that the Japanese words for 'blue' can also mean 'green' in select cases like at traffic lights.
コンゴウフグ
Longhorn Cowfish. A rather peculiar yet undeniably cute puffer fish.
---
That's not all! Log in to see the rest of this lesson.
Or if you aren't a member yet, please consider signing up.